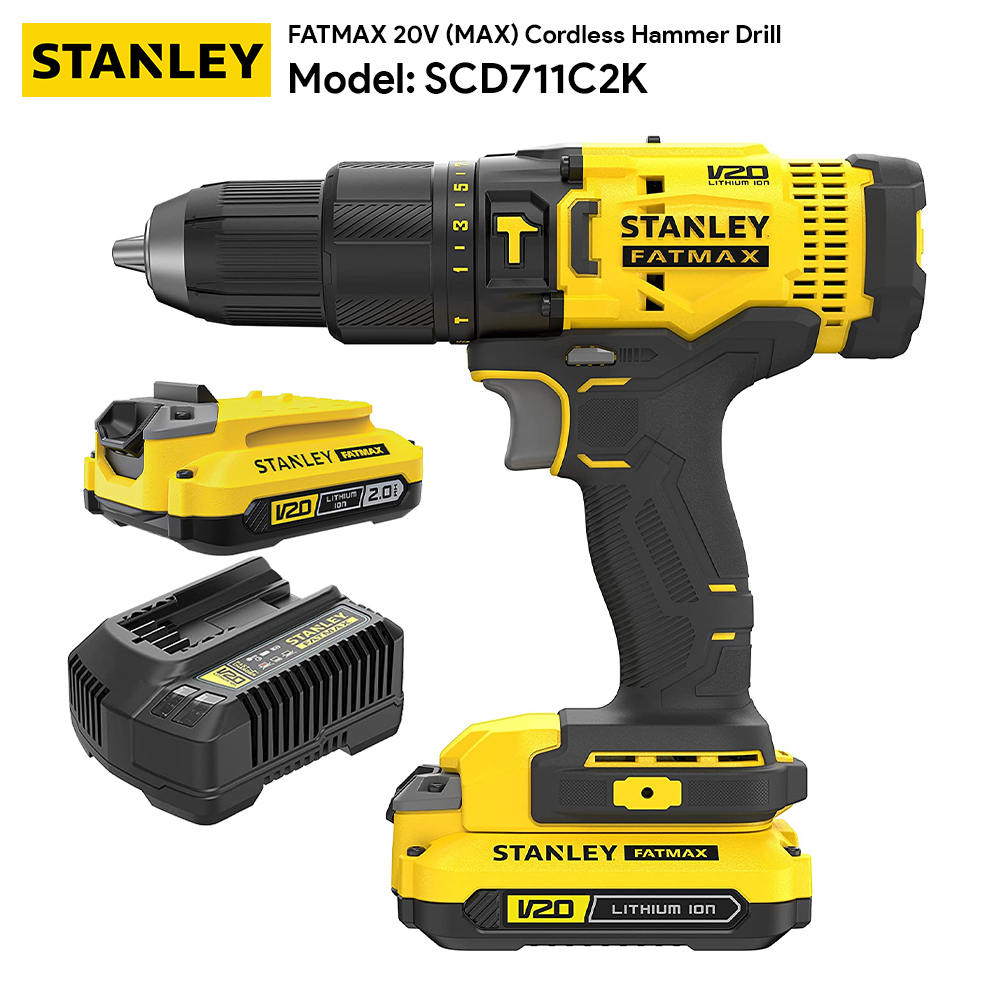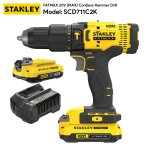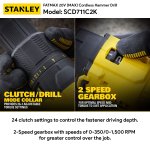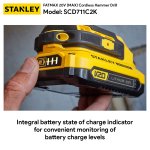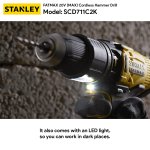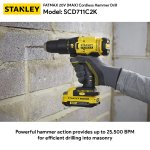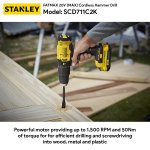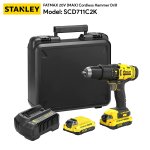 Stanley FATMAX V20 18V Cordless Hammer Drill SCD711C2K
PRODUCT DETAILS
WARRANTY DETAILS
SHIPPING INFO
About this item:
Integral battery state of charge indicator for convenient monitoring of battery charge levels
Powerful hammer action provides up to 25,500 BPM for efficient drilling into masonry
Powerful motor providing up to 1,500 RPM and 50Nm of torque for for efficient drilling and screwdriving into wood, metal and plastic
24 clutch settings to control the fastener driving depth. 2-Speed gearbox with speeds of 0-350/0-1,500 RPM for greater control over the job
Specification:
Brand: Stanley
Power Source: Battery Powered
Voltage: 18V
Amperage: 1.5 Amps
Colour: Yellow + Black
Speed: 1500 RPM
BPM: 25500 / min
Item Torque: 50 Newton Meters
Whats's in the box:
• 1 x Cordless Hammer Drill
• 2 x Batteries
• 1 x Charger
• 1 x Instruction Manual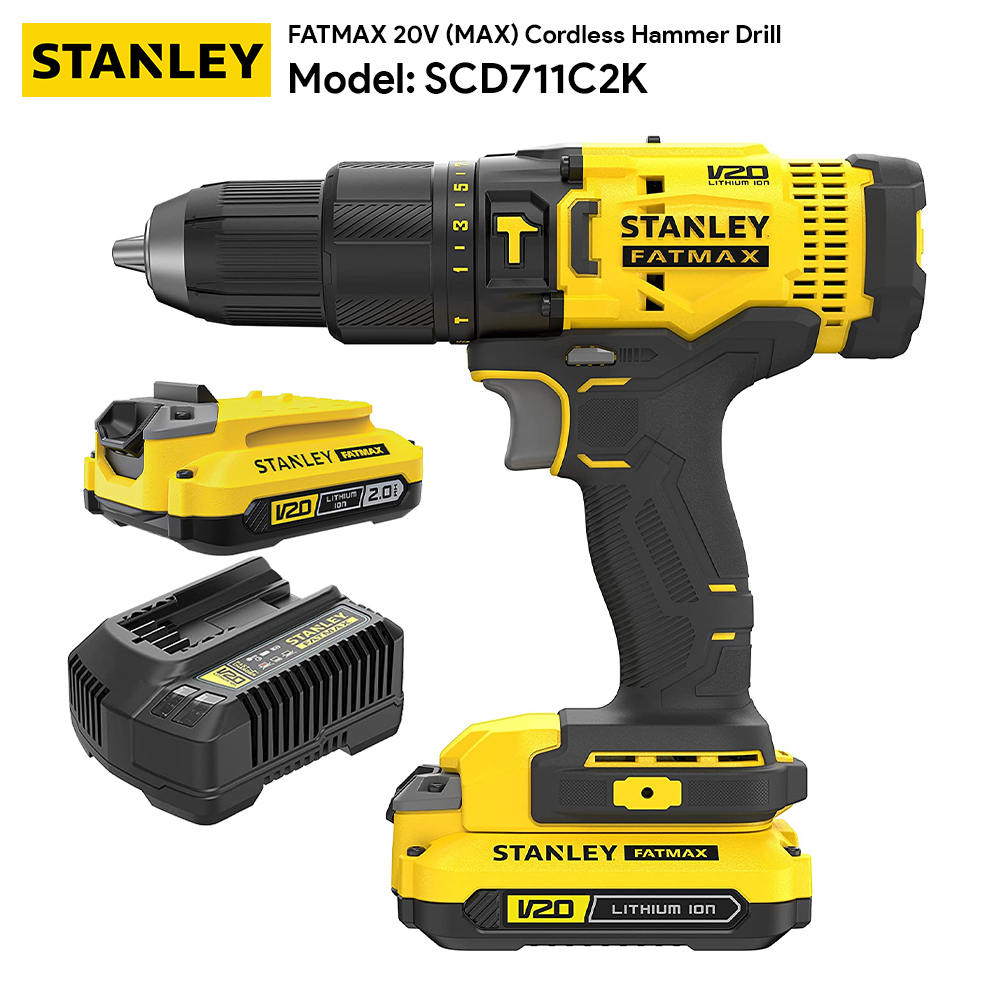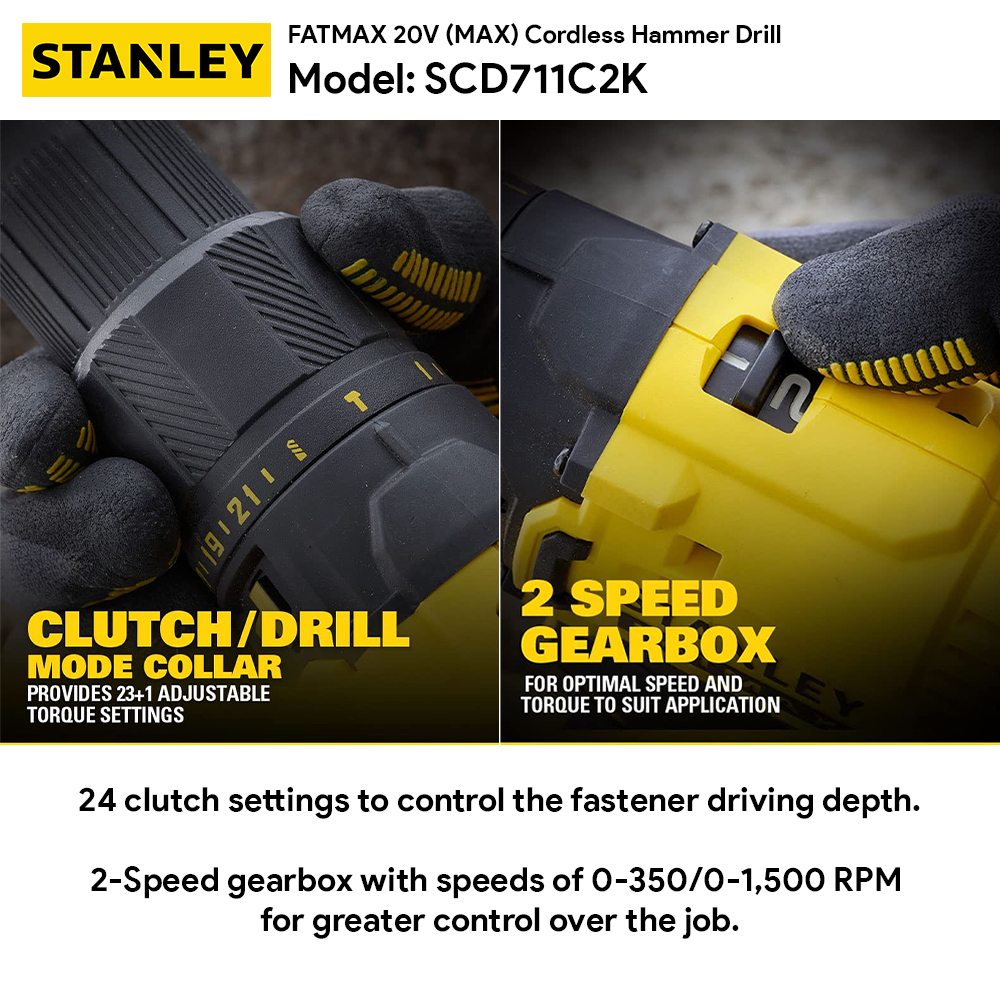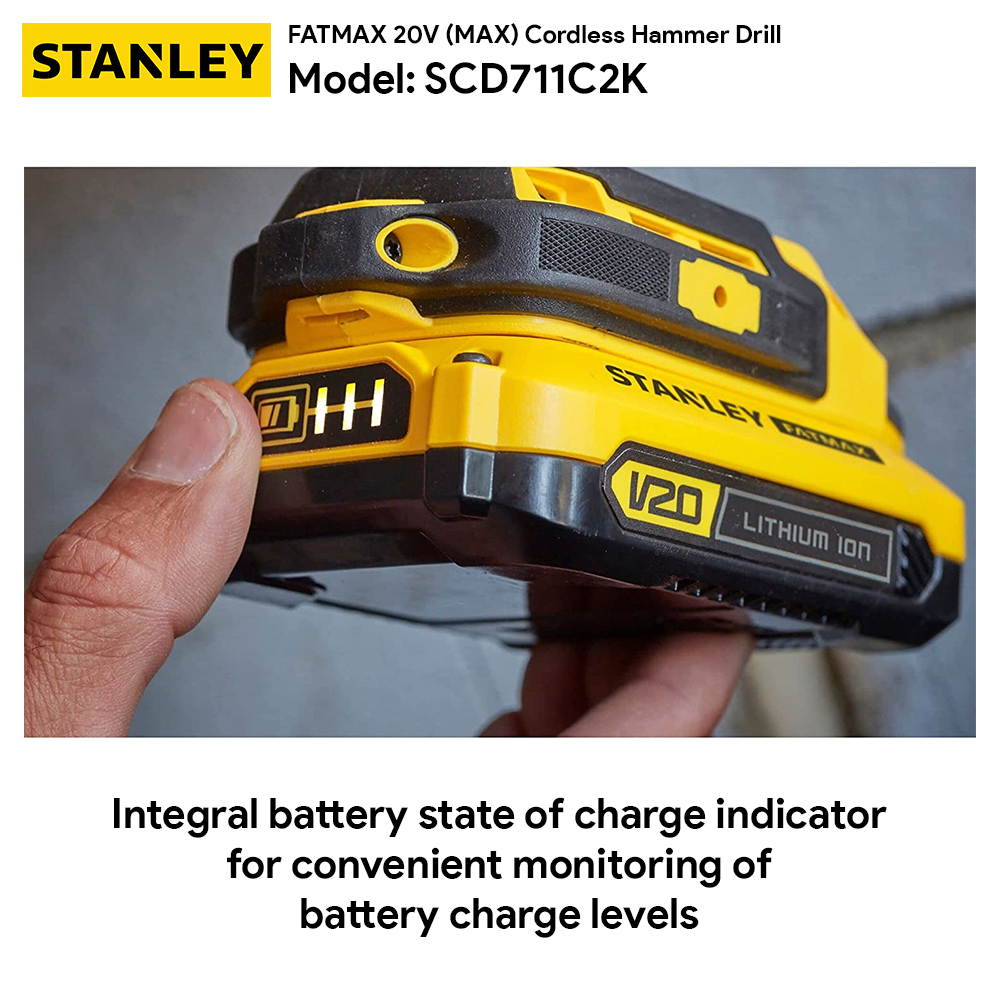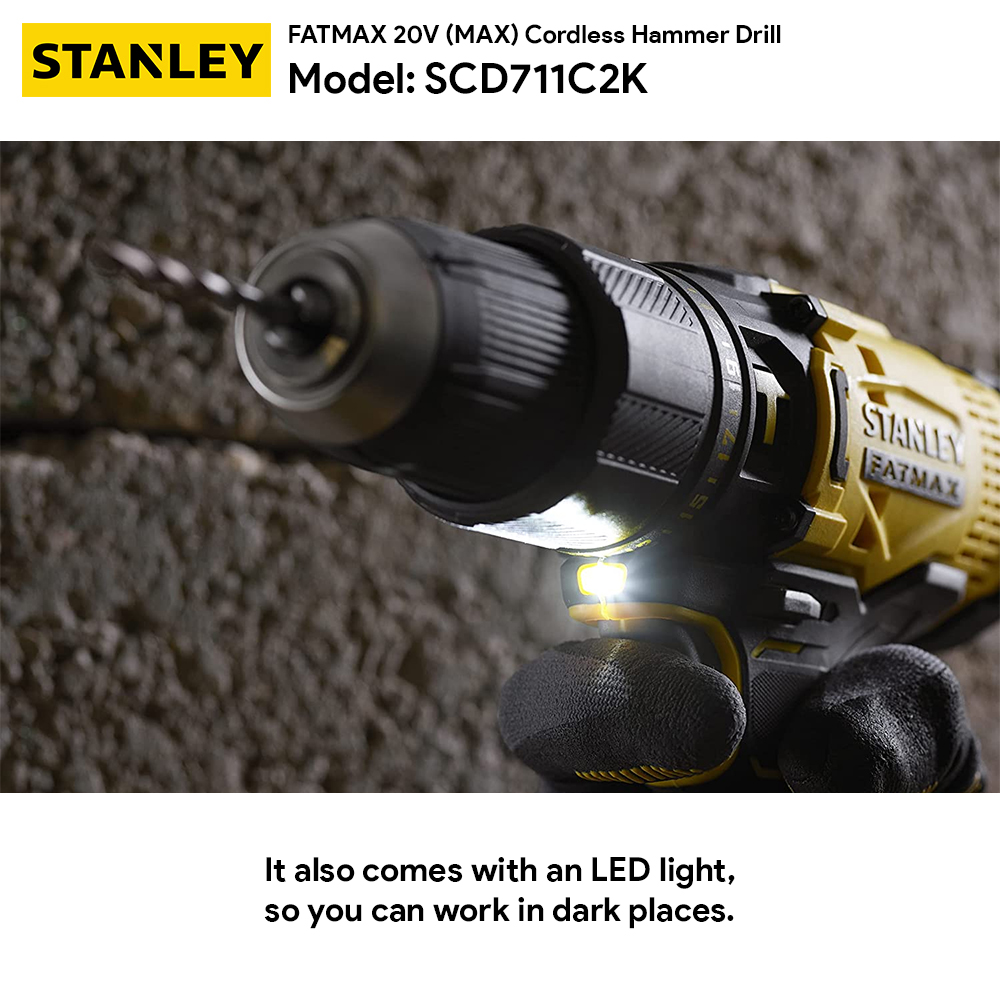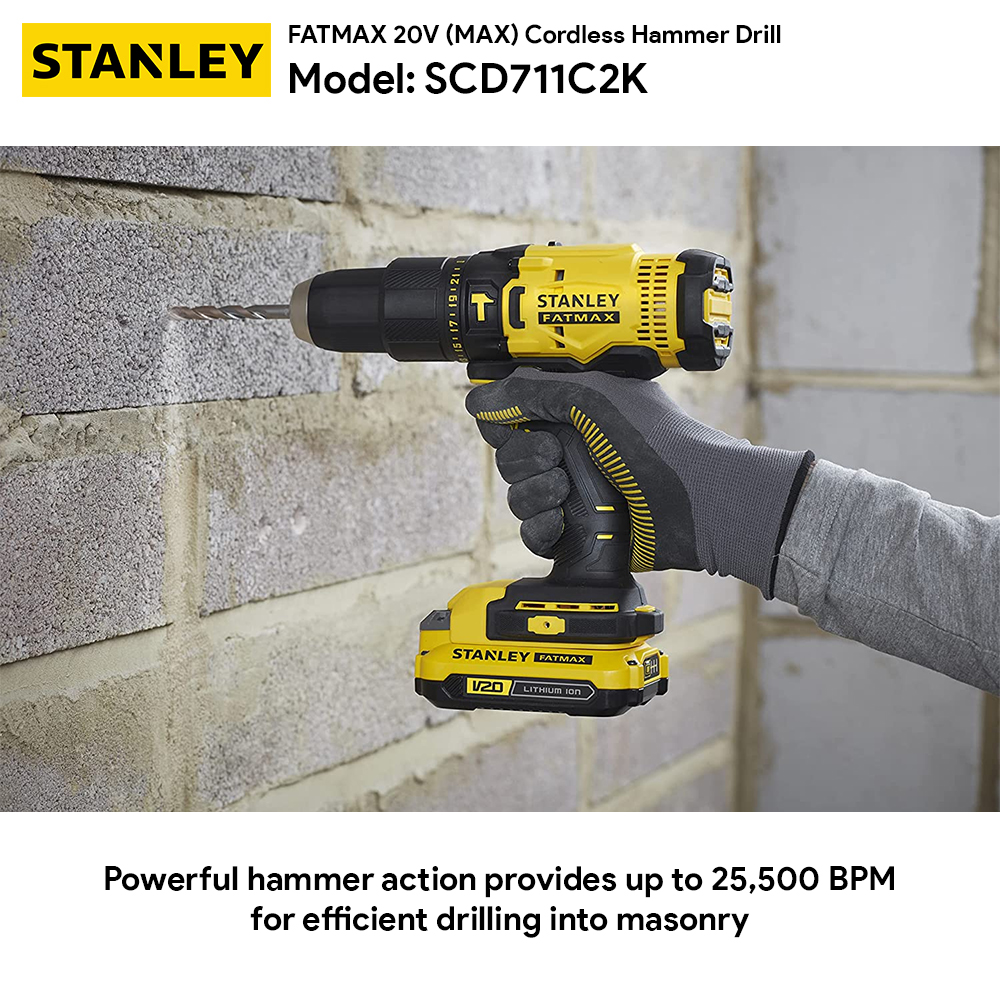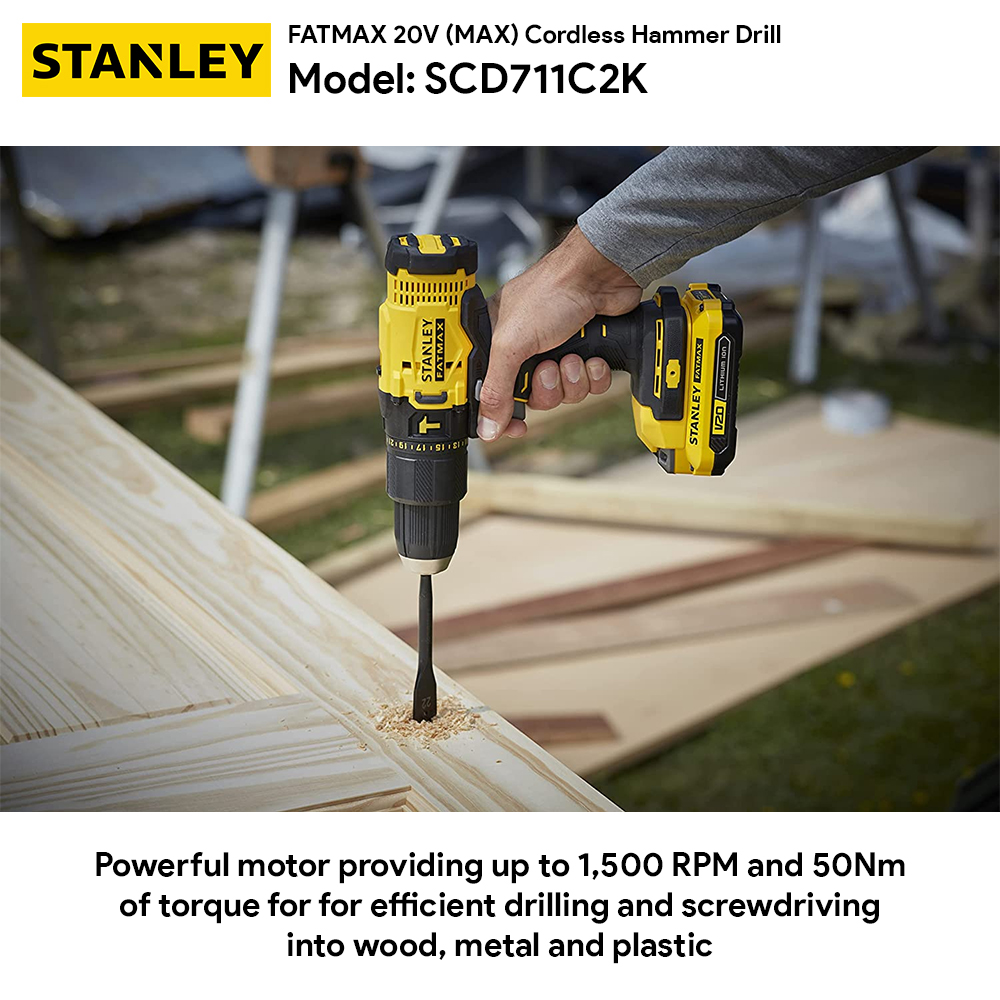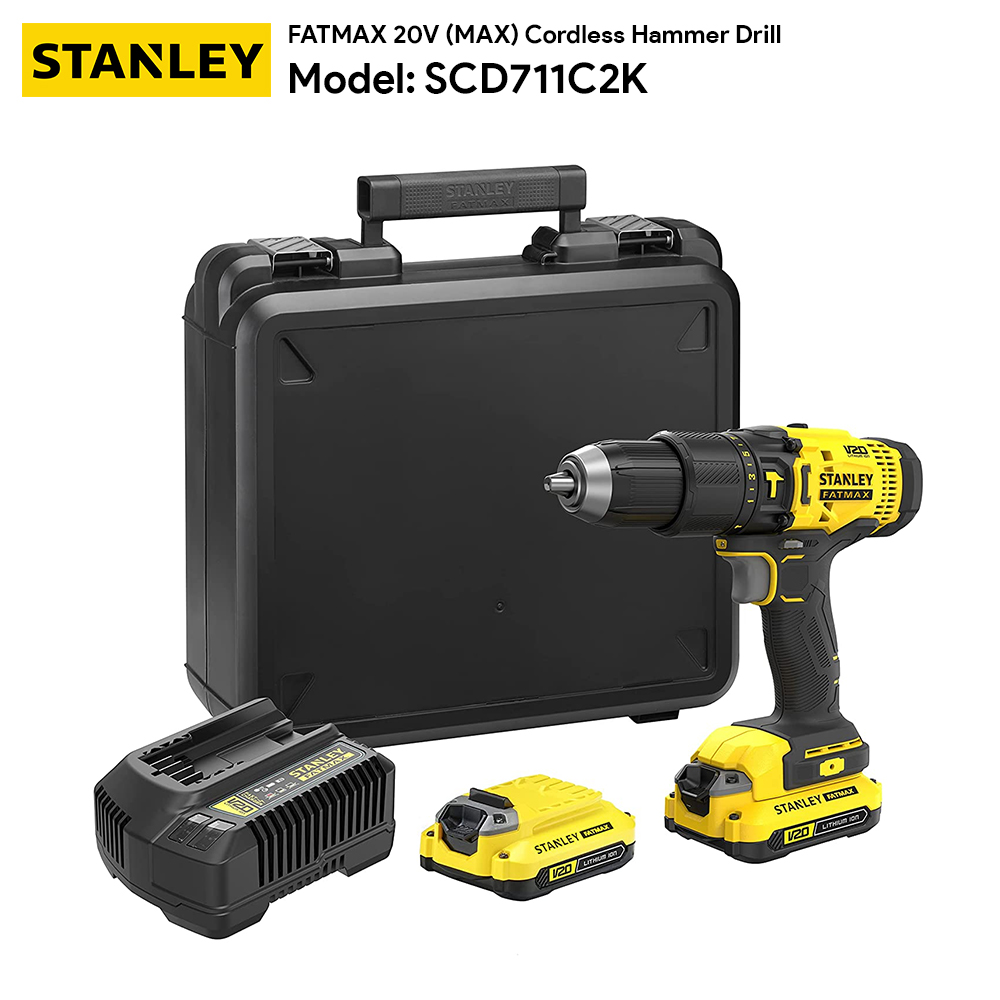 Back
Stanley FATMAX V20 18V Cordless Hammer Drill SCD711C2K
WARRANTY DETAILS
WARRANTY PERIOD:
MOTOR / ARMARTURE / FIELD COIL
• 1 year from date of purchase.
• 1 time component replacement only free of charge
BATTERY / CHARGER / SWITCH / PCB
• 3 month from date of purchase (1 time component replacement only free of charge)
COMPONENT NOT COVER BY WARRANTY
• Carbon Brush, AC Cord, Handle/ Holder, Gear -Case, (Body, Guard, Grease / Lubricant)
TERM & CONDITION
ALL WARRANTY CLAIM MUST ATTACH WITH PURCHASE INVOICE / CASH BILL WITH MODEL , SERIAL NO AND CUSTOMER CONTACT NO
Note: Any repair or replacement performed under warranty will be carried out by authorised service centre in Sarawak.
PRODUCT DESCRIPTION
About this item:
Integral battery state of charge indicator for convenient monitoring of battery charge levels
Powerful hammer action provides up to 25,500 BPM for efficient drilling into masonry
Powerful motor providing up to 1,500 RPM and 50Nm of torque for for efficient drilling and screwdriving into wood, metal and plastic
24 clutch settings to control the fastener driving depth. 2-Speed gearbox with speeds of 0-350/0-1,500 RPM for greater control over the job
Specification:
Brand: Stanley
Power Source: Battery Powered
Voltage: 18V
Amperage: 1.5 Amps
Colour: Yellow + Black
Speed: 1500 RPM
BPM: 25500 / min
Item Torque: 50 Newton Meters
Whats's in the box:
• 1 x Cordless Hammer Drill
• 2 x Batteries
• 1 x Charger
• 1 x Instruction Manual